Living Well Through Lent 2021 Offerings Promotional Flyer (PDF FILE)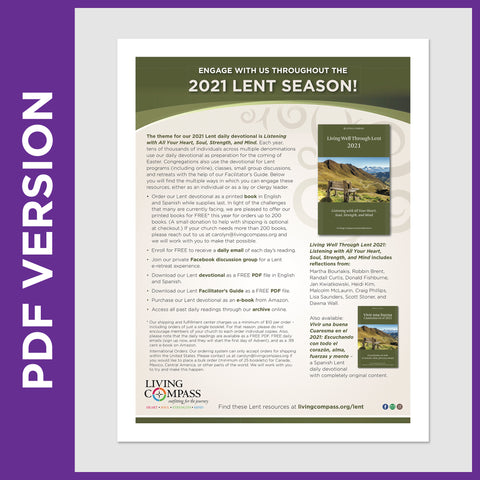 Living Well Through Lent 2021: Listening with All Your Heart, Soul, Strength, and Mind
If you have individuals or a group you would like to share our Lent offerings with, we are happy to provide our Lent promotional flyer for you to print and distribute.
The flyer is offered as a PDF file and prints on a standard 8.5x11 paper.
The flyer will inform people of the following ways to engage this Lent season:
Order our Lent devotional as a printed book in English and Spanish. All books are being offered without charge this year for orders up to 200 books, while supplies last. If you need more than 200 books, please reach out to us at info@livingcompass.org and we will work with you to make that happen. Donations to help cover shipping costs will be optional, but not required.
Enroll for free to receive each day's reading via a daily email
Join our closed Facebook discussion group and Lent retreat, hosted by Robbin Brent, Jan Kwiatkowski, and Scott Stoner
Access all past daily readings through our archive online
Download our Lent devotional as a FREE PDF file in English and Spanish
Download our Lent Leader's guide as a FREE PDF file

Purchase our Lent devotional as an e-book from Amazon for .99 cents (we cannot make these free as the price is controlled by Amazon).
Living Well Through Lent 2021: Listening with All Your Heart, Soul, Strength, and Mind includes reflections from: Martha Bourlakis, Robbin Brent, Randall Curtis, Donald Fishburne, Jan Kwiatkowski, Heidi Kim, Malcolm McLaurin, Craig Phillips, Lisa Saunders, Scott Stoner, and Dawna Wall.
Also available: Vivir una buena Cuaresma en el 2021: Escuchando con todo el corazón, alma, fuerzas y mente  – a Spanish Lent daily devotional with completely original content.