The Teen Compass Wellness Notebook (PDF FILE - Secular)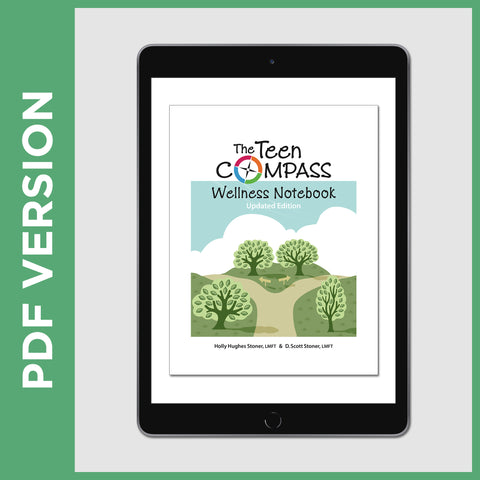 The Teen Compass Wellness Notebook, a colorful, 114 page consumable notebook, is designed for use classrooms or in other places where teens are gathered.  It is now being used in schools, in after school programs, by AODA counselors, and at camps. When used in these ways each teen needs one of these notebooks. 
When using this notebook teens will:
Assess their own wellness in eight interconnected areas (Organization, Stress Resilience, Relationships, Rest and Play, Handling Emotions, Spirituality, School and Work, and Care for the Body) by completing the Teen Compass Wellness self-assessment tool.
Learn about and discuss what wellness looks like in each of the eight areas of wellness.
Have a place to journal and self reflect.
Decide what changes they could make in their lives, and create their own SMART goals - No Sharing is Required.
All of this is done in a group context, where teens can openly share and discuss the challenges of being a healthy teen in today's world, get support from their peers and leader, and be empowered to make the changes they want to make in their lives, and as a result community is built.
To preview this product, click here or see below:
---
More from this collection